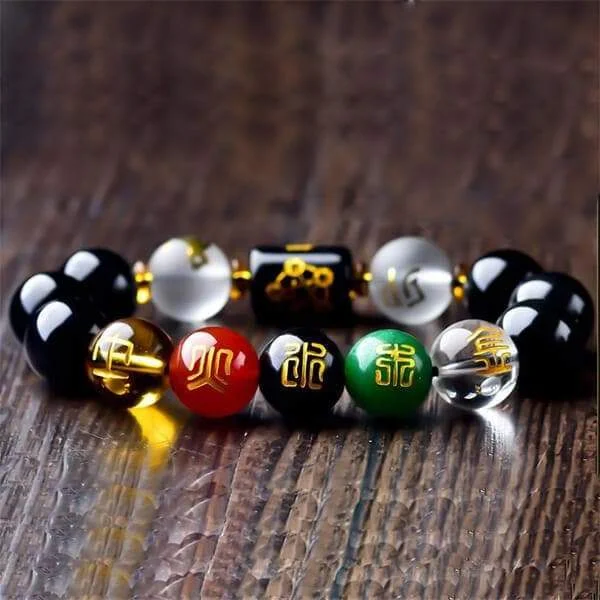 The 5 Elements of Wealth Gathered and Ready to Improve Your Life!
Prosperity and Good Luck everywhere!
The 5-Elements of wood, fire, earth, metal and water are connected in combination to align your home to a healthy balance.
Obsidian is a healing and protective stone that collects strong power in itself. It is used as a great cleanser of negative energies, helping to remove negativity experienced in the environment, and one's negative emotions, such as anger, jealousy, greed, resentment.

The Symbol on the beads are Five feng shui elements: wood, fire, earth, metal, and water. It embodies wisdom, new beginnings luck and wealth.
And it will bring good fortune and wealth money. And and getting you back to your spiritually, emotionally, mentally and physically healthy self.

Known as a very powerful and creative stone, it increases self-control and forces facing up to ones true self. This releases imbalances and negative energies.


The ancient Chinese art and practice of feng shui aims to create a space that allows chi or qi C the energy of the universe C to flow naturally.

Made of high quality of Natrual Obsidian, Agate, Chalcedony, Crystal.
Obsidian refers to a precious black stone which is commonly seen. As one of seven treasures in Buddhism, obsidian collects strong power in itself and thus has been using as a sort of talismans or amulets since ancient times, capable of r
emoving pressure, fatigue, foul smell and other negative energies.Main Function:
Attract Wealth, Abundance, Ward Off Evil Spirit, Bring Good Luck.
Each bracelets are blessed by Taoist priest who have certain in practice by holding the mantra, and giving special spiritual power to eliminate the bad magnetic field of items, giving special spiritual power to items. and
bring lucky and protect to you
Frequently Asked Questions (FAQ)
Q: Should I wear it on my left hand or right hand?
A: Wear the bracelet on your dominant hand, the hand that you use to write.
Q: Where should I place it when I am not wearing it?
A: When you are sleeping, bathing or any other situation that you are not wearing it, you should place it in the living room, with the head facing towards the main door. Do not place it in your bedroom.
Q: What makes this Feng Shui Bracelet different from the rest?
A: This bracelet is designed by an actual Feng Shui expert, Master Xi. The components of this bracelet are carefully selected by Master Xi and it is optimized to give you the best Feng Shui.
Q: If my family and friends want it, should I buy it for them too?
A: With our Buy More Save More program, it is a good idea to buy more bracelets to enjoy the extra savings. What's even better is that when you buy the bracelet for others, you accumulate good karma that could result in better Feng Shui in your life.
If you bought it and felt that it is not for you, don't worry. Just shoot us a message at contact kerentila@outlook.com , and we will make it right by offering you a replacement or refund. 100% Simple & Risk-Free process.